Pupils from the Holy Family Senior National School in Rivervalley, Swords participated in a Litter Pick and Graffiti Removal Project in their local area on Wednesday, 27th November last.
Article from the North County Leader…..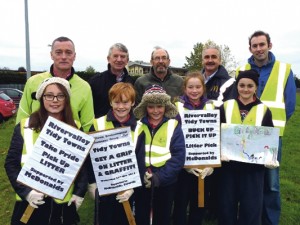 The children, aged 9-12 years old did a litter pick in the vicinity around their school and also painted over graffiti on walls around their local sports pitch. The children are pupils of Mr Tommy Duffy and Mr Peter Madden and each one was a credit to their school and were presented with an environmental certificate afterwards. The project was organised by Gerry White, who is the Chairperson of Hilltown Environmental Awareness Group (HEAG), which is affiliated to  Rivervalley/Rathingle Residents Association and Swords Tidy Towns. Joe Newman, who is a environmental officer for the Residents Association and community activist, was also there in support.
Speaking to the County Leader, Gerry White said, "I would like to thank Morgan McStay of McDonald's, Swords who, along with a number of his staff, were there on the day to support the project. McDonald's Swords has been one of the main sponsors of HEAG since it's foundation in April 2001. Morgan has confirmed that one of McDonald's objectives is to work on the ground and participate alongside local groups in the future on such environmental projects," he said.
It is planned that this initiative will be ongoing with the local Holy Family SNS in Rivervalley, and it is intended that different classes from the school will be given an opportunity to participate in similar projects to help their local environment over the school terms.